SpaceX launched mission Inspiration 4 from NASA's Kennedy Space Center Launch Complex on 15th of September 2021.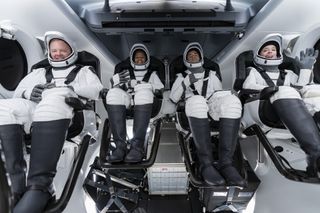 The Launch of SpaceX's Inspiration 4 established a new world record for space travel. It has increased the number of crewmates to a record of 14 onboard astronauts considering the previous record was only 13.
The 14 crewmates will inhabit 3 different spacecrafts. Jared Isaacman, Hayley Arceneaux, Chris Sembroski and Sian Proctor form the Inspiration 4 crew and are orbiting the Earth inside a SpaceX Crew Dragon Pod.
Currently, the International space station (ISS) hosts 7 astronauts: Megan McArthur, Shane Kimbrough, Mark Vande Hei ( NASA); Pyotr Dubrov and Oleg Novitskiy(Russia); Akihiko Hoshide ( Japan); Thomas Pesquet ( European Space Agency). Nie Haisheng, Liu Boming and Tang Hongbo inhabit Tianhe as part of China's Tiangong space station.
The Launch of Space X Inspiration4 surfaced exciting news exclaimed by one of the Crewmates. The astronaut stated on Twitter that private Spaceship launches will be a thing of the future.
The crew will land back on Earth Saturday Sept. 18th. Allegedly, Nie, Lui and Tang's Shenzhou 12 mission will be ending Sept the 17th as well. It is common practice for China not to publicize many details of their spaceflight plans. Nevertheless it is known that the Chinese astronauts are living in orbit for 3 months now which is 3 times longer than their predecessors.
Previous records of space flight 13 simultaneous astronauts has been reached a few times in the past. For example: in March 2009, ISS briefly hosted 13 crewmembers.
The Launch of SpaceX Inspiration4 definitely marks a milestone in humanity's first steps for intergalactic expansion.
Source:
SpaceX's Inspiration4 launch boosts population of space to record-breaking 14 | Space