99% of Expected Vote
Estimated remaining85,905
Estimated remaining85,905
ALAKAZCOFLGAINKSMEMAMNNCNDOKPASDTXWYCTMOWVILNMARCAHIIAKYMIMSMTNHNYOHORTNUTVAWAWINESCIDNVVTLARINJDEMDDC
Tap map for detailsHover over the map for details
| State Name | Total Electoral Votes | Percent In | Democratic Candidate | Republican Candidate | Link to Page |
| --- | --- | --- | --- | --- | --- |
Races to Watch
Races to Watch
99%
expected
vote in
% in
100% in
100% in
100% in
100% in
100% in
100% in
100% in
100% in
100% in
100% in
100% in
100% in
100% in
Early voting nationally
National numbers only include states where there is some type of early voting and data is available. It does not represent all registered voters. In 2016, 40.8% of all voters nationwide voted early (17.7% absentee, 5.9% by mail, 17.2% early in-person).
Mail-in ballots requested89,147,572
Mail-in and early in-person ballots returned101,270,431
Last updated Dec. 3. Party registration is based on a combination of state-provided partisanship (when available) and TargetSmart's model of party affiliation.Data provided by
More to the Story in 2020
The coronavirus pandemic and devastating economic fallout are two major issues impacting the election this year as voters assess which candidate is best suited to handle and combat the crisis. NBC News is tracking and updating daily the number of coronavirus related deaths in each state and U.S. territory, as well as tracking the jobless claims as reported weekly by the Department of Labor.
U.S. Cases
Weekly
change
60-day
trend
Monthly
change
21,759,198
+26.36%
+19.04%
1,083,145
+22.00%
+68.00%
New York Cases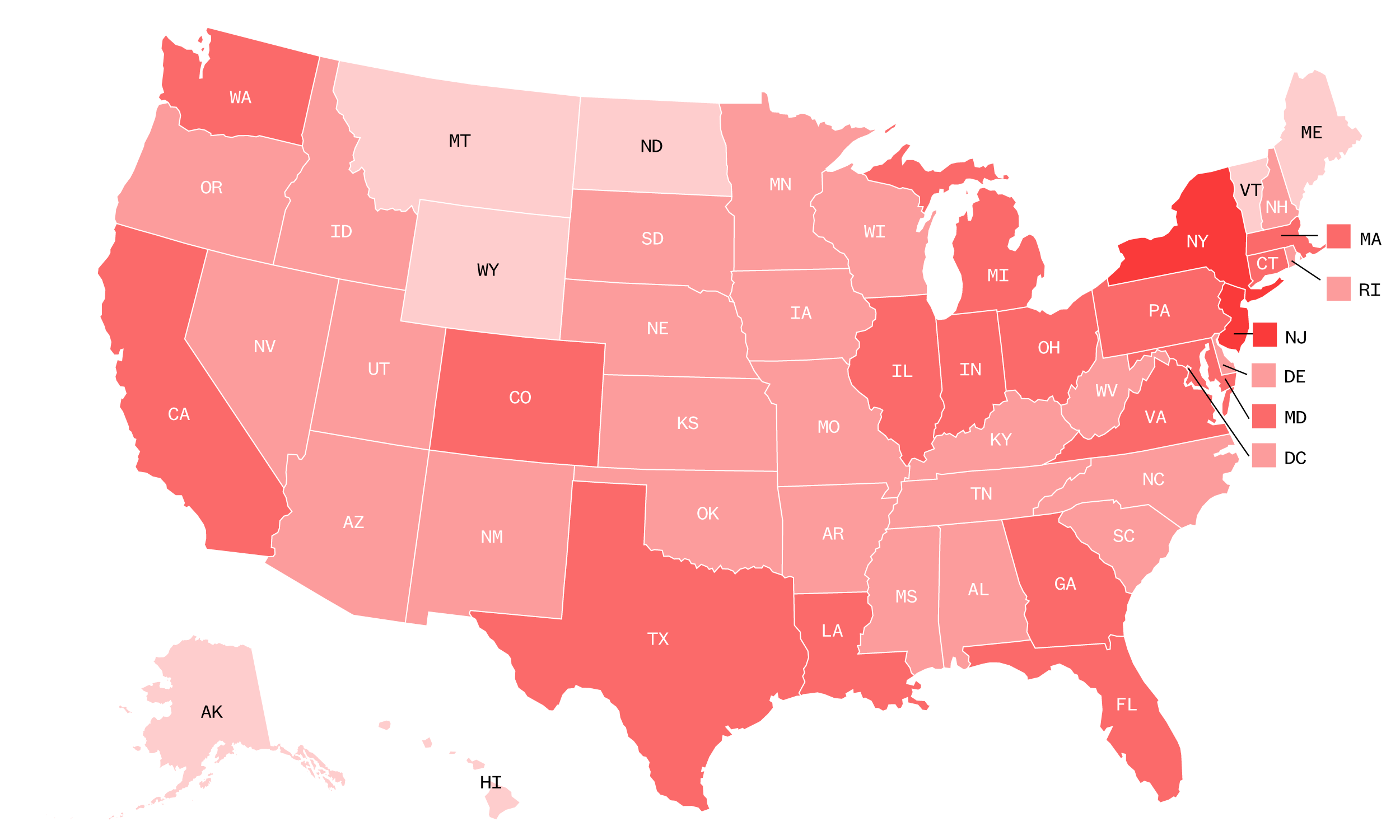 Full Coverage
U.S. Claims
Weekly
change
60-day
trend
Monthly
change
5,072,000
-2.42%
-12.26%
404,003
+3.71%
-1.64%
New York Claims
Voting trends
2016 Exit Polls
Summary of 2016 Exit Poll data that shows the proportion of how different groups voted.
Men: Democrats41%Men: republicans53%
Women: Democrats54%Women: republicans42%
White: Democrats37%White: republicans58%
Black: Democrats88%Black: republicans8%
Hispanic/ Latino: Democrats65%Hispanic/ Latino: republicans29%
Asian: Democrats65%Asian: republicans29%
College Graduate: Democrats49%College Graduate: republicans45%
No College Degree: Democrats44%No College Degree: republicans52%
2012 Exit Polls
Summary of 2012 Exit Poll data that shows the proportion of how different groups voted.
Men: Democrats45%Men: republicans52%
Women: Democrats55%Women: republicans44%
White: Democrats39%White: republicans59%
Black: Democrats93%Black: republicans6%
Hispanic/ Latino: Democrats71%Hispanic/ Latino: republicans27%
Asian: Democrats73%Asian: republicans26%
College Graduate: Democrats47%College Graduate: republicans51%
No College Degree: Democrats51%No College Degree: republicans47%
The expected vote is the total number of votes that are expected in a given race once all votes are counted. This number is an estimate and is based on several different factors, including information on the number of votes cast early as well as information provided to our vote reporters on Election Day from county election officials. The figure can change as NBC News gathers new information.
Source: TargetSmart provides individual-level voterfile data state-by-state, including ballot requests and early in-person/mail in-voting absentee early vote data. The NBC News Decision Desk independently analyzes and aggregates the data.
Source: National Election Pool (NEP)